For the record, this is an old post, I just hadn't uploaded it here before. I survived three weeks of making ding-ding food. The following explains my total lack of patience with it.
My Dad just rang. "How's the new job going?" he asks. A resoundingly apathetic 'MEH' is the reply.
The New Job, at a pub/company which ought to remain anonymous given the following rant, is neither faaaabulous nor hideous. It is just... MEH. Working there has numbed so many braincells already that MEH is about the limit of my relevant vocabulary right now.
Sunday roasts....that staple of British 'cuisine'. Homely comfort food. Carl's speciality in fact. Nuked beyond all recognition at work.
Chicken 'saddles' arrive in individual vaccuum-packed frozen parcels. They are then microwaved for exactly four minutes.
If you have the beef option, this means I get to stick another frozen bag in a pan of hot water. The meat is already sliced and comes frozen in gravy.
Mash potato is in frozen plastic tubs, already portioned up, and microwaved.
'Roast' potatoes are sliced up, frozen and bunged in the deep fat fryer.
Miscellaneous frozen veg is 'steamed' in a little plastic bag in the microwave.
Synthetically spherical balls of stuffing are frozen and deep fried too.
Yorkshire puddings are Auntie Bessies frozen finest.
Gravy has never been introduced to the meat before, and comes in individual frozen blue sachets and unceremoniously dumped into gravy boats.
The whole plateful (with each item placed on exactly the right spot on the plate, according to the dreaded Spec cards) takes under ten minutes to "prepare" - they don't even use the word "cook"!!!
Something deep in my brain is beginning to tell me: I can do better than this.
I really really hope I can, anyway. Is this really better than being unemployed?
Nevertheless, Carl sends me cute little Positive Affirmation messages when I'm at work: "Going to make my Bel the best roast in the world ever today! xxx" At least I get decent meals at home then...
I also found this, which tells you all you need to know about the food there: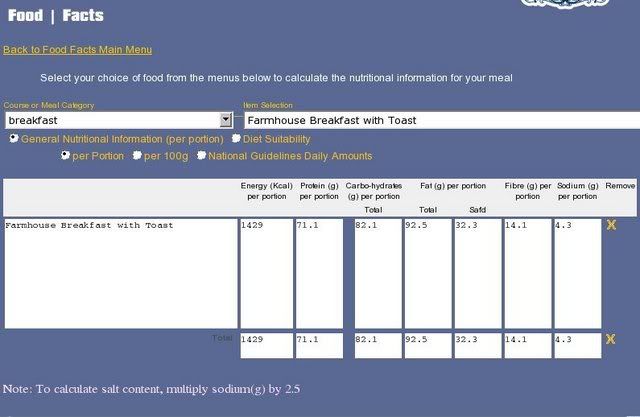 ONE THOUSAND FOUR HUNDRED AND TWENTY NINE CALORIES ON BREAKFAST???